Xylazine: A frank scope of "tranq-dope"
There has been increasing interest in the media recently about xylazine, a sedative that sometimes shows up in down/opioid samples. This post answers some common questions we've heard about xylazine by drawing on research, the wisdom of lived experience, and our own data.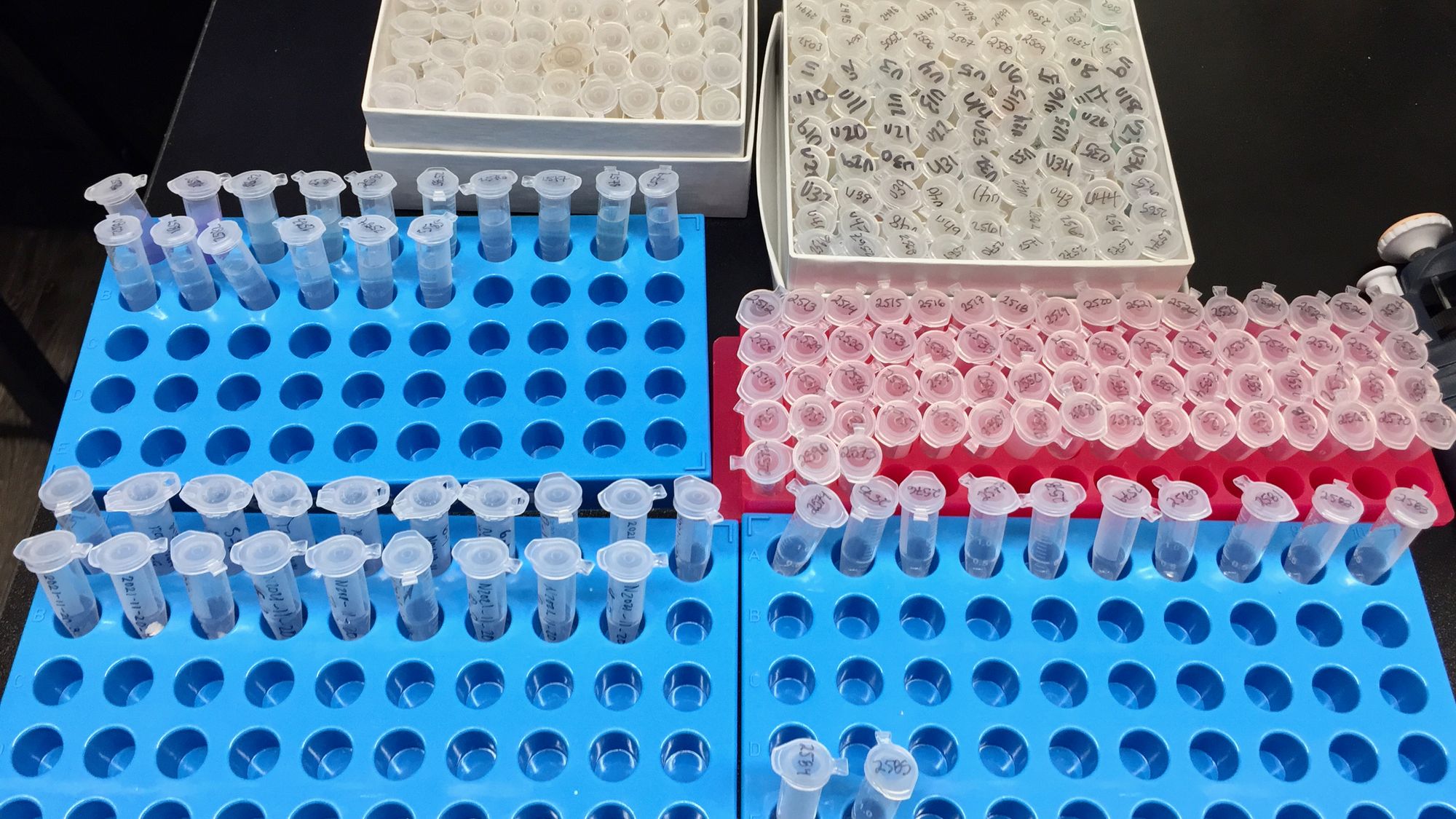 By Abby Hutchison, Collin Kielty, Becca Louw, and Taylor Teal
---
There has been increasing interest in the media recently about xylazine, a sedative that sometimes shows up in down/opioid samples. As is often the case when an unfamiliar drug shows up on the scene, we've seen some confusion, misinformation, and fear about xylazine in the community. The context of criminalization that we are all operating under means that it's easy for lack of information and stigma to rule the conversation. This post answers some common questions we've heard about xylazine by drawing on research, the wisdom of lived experience, and our own data.
What is xylazine?
Xylazine belongs to the depressant category of drugs. It's a non-opioid sedative, pain-reliever, and muscle relaxant, and it's commonly used in veterinary medicine (1). In Philadelphia (and elsewhere), where xylazine is more common, down samples cut with xylazine have been referred to as "tranq dope" (1). It is consumed both intentionally for the desired sedative effects and unintentionally when its presence as an adulterant may not be known.
What does it do?
Like other depressants such as benzodiazepines and opioids, xylazine can cause central nervous system and respiratory depression (e.g. sedation, reduced rate of breathing), low blood pressure, and slowed heart rate (1).
People who use drugs in Philadelphia suggested that the presence of xylazine in down increased its "legs," or the length of time the high lasted (1). Fentanyl, which makes up the majority of the down supply in Victoria, has a shorter duration than heroin. The high from fentanyl cut with xylazine has been likened to the feeling of heroin in that it lasts longer (1). In Victoria, we have previously seen an increase of benzos added to the down supply for similar reasons - to increase the length of effects of fentanyl.
There have been reports of "skin ulcers, abscesseses, and lesions" (1) among people who inject drugs where xylazine is prevalent (1, 2) but also questions if xylazine is the direct cause and if or how the amount of xylazine and frequency of use factor into the skin lesion equation.
Does xylazine increase risk of overdose/death?
As is the case with benzodiazepines, xylazine is not an opioid, and therefore doesn't respond to naloxone. Naloxone only works on opioids in the body and doesn't have any effect on other kinds of substances. This presents some obvious challenges in the event of overdose. However, because xylazine is most often found with an opioid (ie. fentanyl), opioid overdose reversal and naloxone should still be administered in the event of an overdose.
When xylazine is mixed with other central nervous system depressants such as benzos, opioids, and alcohol it can make it more challenging to figure out dosing and can increase risk of depressed breathing and heart rate. In addition, there is little known about dosing xylazine for human consumption. If you are unsure if a drug contains xylazine, are unsure how much xylazine is present, or if you are combining with other drugs, start low and go slow.
Is xylazine a new drug?
Xylazine has been showing up in the drug supply in other locations for at least as long as 20 years, notably in Puerto Rico and (later) Philadelphia (1). Xylazine may be newer within the opioid supply in "Canada", with Toronto's Drug Checking project first identifying xylazine in the fall of 2020 (4), and our project first detecting it on "Vancouver Island" in October 2021.
Why is it being used?
We don't know for sure, but there are a couple possibilities. Xylazine isn't scheduled in the US (1) or Canada (3). It also extends the "legs" or duration of a high. Within the context of fentanyl being the predominant substance in the down supply, extending the duration may be a desirable and pleasure-enhancing effect for many people because fentanyl alone has a short duration (1). Further, this may reduce the frequency of redosing required.
In conversations about why people use drugs that have potentially harmful effects, we must remember the context we're in: criminalization. As long as criminalization continues, people will find new, creative ways to work around the challenges the system presents them with. In this context of criminalization, people who use drugs (and particularly those who require daily access to substances) often have to work very hard to get the drugs they need, and poverty is a reality for many people. For many reasons, not using drugs that contain xylazine may be impractical at best - or outright impossible. And for others, the benefits of xylazine might be desirable.
Is it showing up in the supply on the island?
Yes, and with an increasing frequency. The figure below summarizes some of our findings over the past year, specific to opioid-down samples and the adulterants that we detected within them: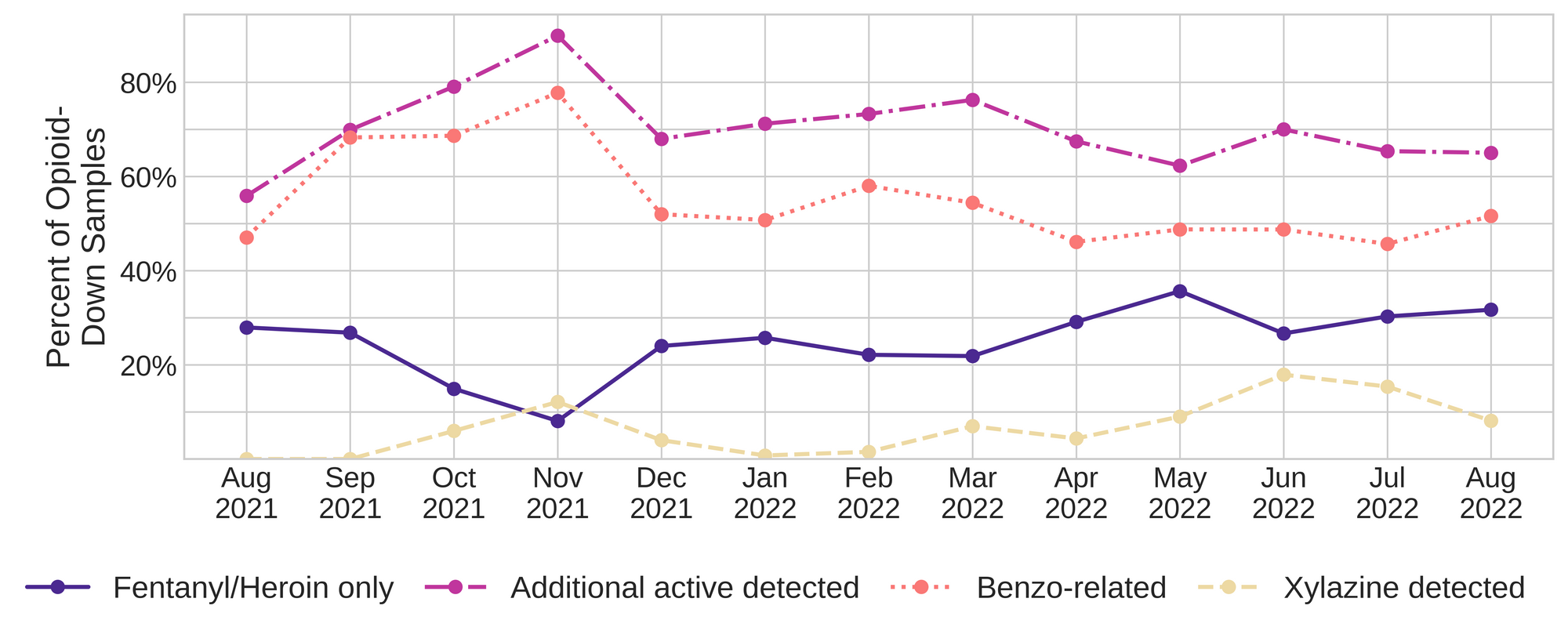 The solid dark purple line shows the percentage of down samples checked in any given month that were simply "as expected", meaning we only detected fentanyl or heroin as the only active drug.
The dashed magenta line shows the percentage of down samples that contained fentanyl/heroin and other active adulterants like benzos, xylazine, fentanyl analogues, etc.

We can see that a majority of the down samples checked this past year have contained other active compounds beyond the expected fentanyl/heroin.

The dotted salmon coloured line is a subset of the adulterated samples (magenta line), showing the percentage of down samples that contained a benzodiazepine or benzo-like drug such as etizolam.

We can see that benzos represent a majority of the adulterants detected in down samples and that the level of benzo adulteration over time has remained fairly constant, with around 50% of down samples containing a benzo, in any given month.

Finally, the dashed yellow line represents the percentage of down samples that contained xylazine. We first detected xylazine in October 2021 and we have certainly noticed an upswing in the percentage of down samples that contain xylazine over the past few months.
Despite the increasing prevalence of xylazine in down samples, the concentration of xylazine that we detect appears to remain relatively consistent over time. The average concentration of xylazine that we detect is around 1%, but with a wide range of 0.1% to around 35% in the highest concentration samples.
The figure below groups together all samples where xylazine was detected. Each black point represents an individual sample checked, while the coloured pink region is related to the number of samples observed in a particular concentration range (e.g. the wider the region, the more samples found at that concentration). The average concentration (1.0%) is marked by the dashed white line. We can see that a majority of the samples contained less than 5% xylazine, though higher concentration samples are still seen.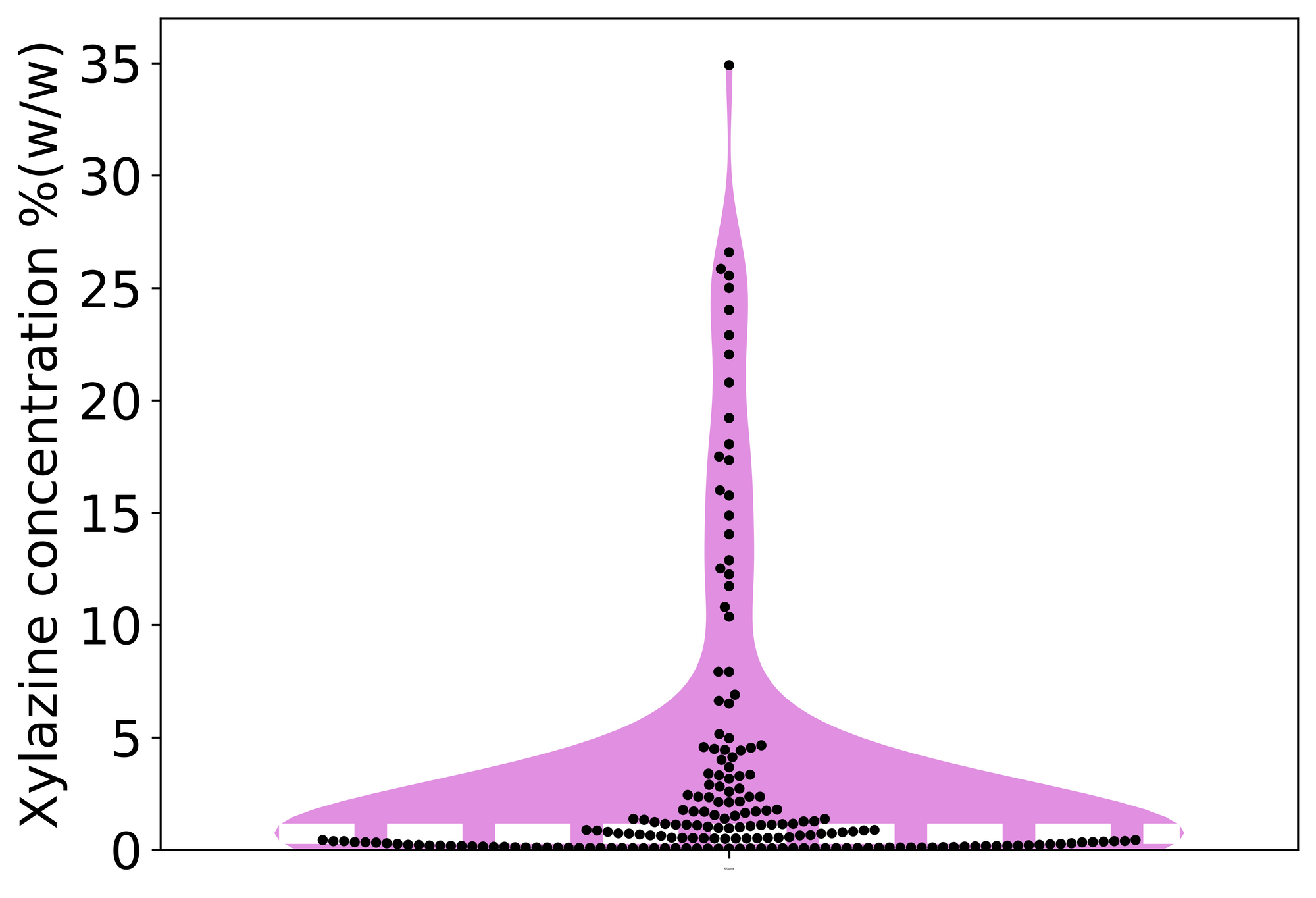 While the colour and texture of a sample can sometimes be helpful in identifying similar samples within the community (and often this is the only information that buyers have available to them) we caution that using the colour/texture of a sample alone as an indicator of a sample's content is limited or misleading. We have seen xylazine in down samples ranging from white powders to hard black chunks and everything in between with no particular trends linking colour, composition, and concentration.The colour and composition of samples changes regularly, and the only way to tell what's in a given point of down (or any other sample) is to get it checked.
Where can I go for more information?
My Overdose on "Benzo Dope" Was Part of a Current Wave, Matthew Bonn for Filter Magazine
Xylazine quick guide for people who use drugs, Next Distro
Xylazine, Street Cats Harm Reduction
CCENDU Drug Alert: Xylazine, Canadian Centre on Substance Use and Addiction
References